EC-Council Certified SOC Analyst (CSA)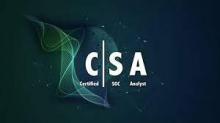 مقدم من:
Global Knowledge - Skillsoft

هدف التدريب
يعد برنامج محلل SOC المعتمد (CSA) الخطوة الأولى للانضمام إلى مركز عمليات الأمان (SOC). تم تصميمه لمحللي Tier I و Tier II SOC الحاليين والطموحين لتحقيق الكفاءة في أداء عمليات المبتدئين والمستوى المتوسط، هذا هو التدريب الموصى به للمتدربين الذين يتطلعون إلى الحصول على شهادة محلل SOC المعتمدة من EC-Council
---
المهارات المكتسبة وفقاً لإطار المهارات الرقمية:
إدارة الأمن SCAD

المستويات:

Level 1
اختبارات الاختراق PENT

المستويات:

Level 2
البنية التحتية لتقنية المعلومات ITOP

المستويات:

Level 2

---
فهرس موضوعات التدريب
اليوم الأول:
عمليات الأمن والإدارة
فهم التهديدات السيبرانية ، IoCs ، ومنهجية الهجوم
اليوم الثاني:
الحوادث والأحداث والتسجيل U
كشف الحوادث باستخدام المعلومات الأمنية وإدارة الأحداث (SIEM)
اليوم الثالث:
كشف الحوادث المحسن مع استخبارات التهديدات
الاستجابة للحادث
مخرجات التعلم
توضيح عمليات وإجراءات وتقنيات SOC وسير العمل
فهم التهديدات الأمنية ، والهجمات ، ونقاط الضعف ، وسلوكيات المهاجمين ، وسلسلة القتل عبر الإنترنت ، وما إلى ذلك
التعرف على أدوات المهاجم وتكتيكاته وإجراءاته لتحديد مؤشرات الاختراق (IOCs) التي يمكن استخدامها أثناء التحقيقات النشطة والمستقبلية
مراقبة وتحليل السجلات والتنبيهات من مجموعة متنوعة
التقنيات عبر منصات متعددة (IDS / IPS ، حماية نقطة النهاية ، الخوادم ومحطات العمل)
تطبيق عمليات إدارة السجلات المركزية (CLM)
تنفيذ أحداث الأمان وجمع السجلات والمراقبة والتحليل
فهم معلومات الأمان وإدارة الأحداث
حلول dminister SIEM (Splunk / AlienVault / OSSIM / ELK)
فهم البنية والتنفيذ والضبط الدقيق لحلول SIEM (Splunk / AlienVault / OSSIM / ELK)
اكتساب خبرة عملية في عملية تطوير حالة استخدام SIEM.
تطوير حالات التهديد (قواعد الارتباط) ، وإنشاء التقارير ، وما إلى ذلك
التعرف على حالات الاستخدام المستخدمة على نطاق واسع عبر نشر SIEM
تخطيط وتنظيم وتنفيذ مراقبة التهديدات وتحليلها في المؤسسة
مراقبة أنماط التهديدات الناشئة وإجراء تحليل للتهديدات الأمنية
اكتساب خبرة عملية في عملية فرز التنبيهات
تصعيد الحوادث للفرق المناسبة للحصول على مساعدة إضافية
استخدم نظام تذاكر مكتب الخدمة
إعداد التقارير الموجزة والتقارير لمنهجية التحليل والنتائج
دمج معلومات التهديد في SIEM لتحسين اكتشاف الحوادث والاستجابة لها
استفد من معلومات التهديد المتنوعة والمتباينة والمتغيرة باستمرار
توضيح المعرفة بعملية الاستجابة للحوادث
فهم تعاون SOC و IRT من أجل استجابة أفضل للحوادث
المتطلبات السابقة للتدريب
سعودي الجنسية

وجود لغة انجليزية

وجود حاسب آلي

توفر اتصال جيد بالإنترنت

إدارة الشبكة أو تجربة مجال الأمان

للتحضير للإمتحان التالي: يتطلب برنامج

CSA

أن يتمتع المرشح بخبرة عمل لمدة عام واحد في مجال إدارة الشبكة / مجال الأمان
الشهادات الإحترافية المتعلقة

لا توجد شهادات احترافية مرتبطة بالدورة التدريبية.

خبرات المدرب

Ahmed Amin Ahmed

PERSONAL PROFILE

Ahmed Amin is a Cybersecurity doctoral candidate at the Capella University – USA,

He also holds a Master of Science Degree in Cybersecurity from the ECCU – USA.

With over than 13 years of experience in the Security field, Ahmed experienced both sides of the wall (Offensive and Defensive). Over the past 6 years, Ahmed has served as a regional Cybersecurity Product manager at Global Knowledge Inc.

Ahmed is an active Cybersecurity professional who held the position of a Review

Board Member at the EC-Council. In addition to the CISA Certification, he holds the prestigious CISSP certification as well as the EC-Council CND, CEH, ECSA, LPT, CHFI, CASE .net and CEI Certification.

CORE COMPETENCIES

Information Security

Penetration Testing and Digital Forensics

Microsoft technologies

Unix based systems

Cisco Security Products

IT CERTIFICATIONS

PhD. - Cybersecurity And Information Assurance (Capella University - USA) - In Progress

M.Sc - Master of Science in Cybersecurity (EC-Council University)

CPENT - Certified Penetration Tester - EC-Council

CCNA Cyber Ops

CISA - Certified Information Systems Auditor

CISSP - Certified Information Systems Security Professional

SCYBER – Cisco Cybersecurity Specialist

LPT - EC-Council License Penetration Tester

ECSA - EC-Council Certified Security Analyst

CHFI - Computer Hacking Forensics Investigator

CEH - EC-Council Certified Ethical Hacker v.11

CND - EC-Council Certified Network Defender v.2

CASE - Certified Application Security Engineer ASP.Net

MCSA - Microsoft Certified Solutions Associate

ENSA - EC-Council Network Security Administrator

CCNA - Cisco Certified Network Associate

CompTIA - IT Fundamentals

CompTIA - A+

CompTIA - Security+

CompTIA - Network+

CISM - Certified Information Security Manager

CRISC - Certified in Risk and Information Systems Controls

CompTIA - CySA+

CompTIA - PenTest+

CompTIA - CASP

MCT - Microsoft Certified Trainer

CEI - Certified EC-Council Instructor

CCSI – Cisco Certified Systems Instructor

EDUCATION

B.Sc. of Electrical and Computer Engineering

2007

Higher Technological Institute, Tenth of Ramadan city, Egypt.

Faculty of Engineering

M.Sc - Master of Science in Cybersecurity

2018

EC-Council University, USA

PhD. – Cybersecurity

In Progress

AUC - American University in Cairo

WORK Experience

Jan 2019 - Current Cyber Force Inc.

CEO and Founder

Lead the R&D for the Cybersecurity Program.

Lead Penetration Testing Project delivered in Partnership with SecureWorks (Dell Company).

SOC Architecture and Design and lead hiring and scheduling for SOC team.

Act as a Security Governance Architect delivering project on behalf of Cyber Force.

Customers (GCCIA-KSA, NNC-Egypt, E-Finance-Egypt, AXA-Egypt, other classified government projects).

Work with ATOS Egypt as a Security Consultant.

July 2017 - Feb 2019 Global Knowledge

Regional Cybersecurity Product Manager - EMEA

Manage strategic Partnership with Cybersecurity vendors (EC-Council, ISC2, ISACA, PECB, SANS)

Conduct Cybersecurity Market research and determine future needs for staffing and essential required skills for the cybersecurity delivery team.

Work with Cybersecurity Program Manager to assure KPIs and KGIs are achieved and aligned with strategic WW needs.

Lead Cybersecurity Implementation Project delivered by Professional services department.

Pre-sales activity with Professional Service Team.

Design and Develop Cybersecurity courses and practice labs.

Develop GIAC workshop.

Lead developer for (CISSP, CISA, CISM, ISSAP, CRISC) courses workshop.

Deliver WW Cybersecurity webinar.

Developed Global Knowledge Cybersecurity Roadmap.

Lead Marketing team during Cybersecurity Month.

Develop Awareness Videos, infographics, and posters.

Oct 2013 - June 2017

Cybersecurity Consultant and Trainer

Deliver Training in (Egypt, UAE, Qatar, Oman, UK, Netherlands, Belgium, Sweden, Denmark, etc..)

Customers (Qatar MOI, Oman MOD, UAE Air-forces, UK-MOD, KPN, Accenture, IBM South Africa, Cisco Turkey, RSA Egypt, Egypt MOD, Egypt MCIT, Egypt MOI, etc…)

Deliver Cybersecurity related services/projects (Penetration Testing, Vulnerability Assessment, Risk Assessment, Security and IT Governance, and Digital Forensics) with Global Knowledge - MEA.

June 2015 - May 2016 EC-Council

Review Board Member

Develop CEHv.9 Training Course and Exam outlines.

Develop real-world lab scenario for CEH v.9.

Review and Audit EC-Council curriculum (ECSA, LPT, CHFI).

Review and Audit EC-Council full labs.

2008 - Oct 2013 Freelancer

Cisco and Microsoft Instructor

Deliver CCNA, CCNA Sec, CCNP-R&S training.

2006 - Oct 2013 EGC for Trading & Supplies

IT Engineer

Work as an IT delivery engineer. Working under Cisco Network Team.

Shadow with Security Testing Team, Network Security Assessment.

Projects

GCCIA - Gulf Cooperation Council Interconnection Authority, Design Cybersecurity Architecture and Lead ISO27001 Implementation.

NNC - National Navigation Company, Lead Digital Forensics and Incident response team and participate in Implementing Security Controls.

NNC- National Navigation Company, Lead Penetration Testing Services.

Classified, WannaCry Post Incident Activity.

Classified, Shamoon Attack Post Incident Activity.

Classified, SOC Design and Lead Implementation Projects.

Classified, Lead Penetration Testing, Source Code review, and Vulnerability Assessment teams.

Classified, Establish Security Governance activity and assist Security Teams in setting their strategic goals. Design and build internal Policies, Standards, and Procedures.

Classified, Build nation-wide regulation for Cybersecurity based on NIST CSF and CIS controls.

Classified, Participate in Red Teaming Activity against classified government entity.