Description
معسكرات مهارات المستقبل هي الأضخم من نوعها في المنطقة وتهدف بالتعاون مع شركاء التدريب لتطوير المعرفة التقنية والمهارات الاحترافية في مجال الاتصالات وتقنية المعلومات لأكثر من 1500 متدرب، مما يؤهلهم للفرص الأكثر طلبًا في سوق العمل. تم تصميم المعسكرات التدريبية بمجموعة من الأنشطة ومنها الأنشطة العملية التي تساعد المتدرب على تطبيق ما تم تعلمه، وذلك يتيح له محاكاة الواقع في الحياة العملية. حيث أن المتدربين المجتازين للمعسكرات التدريبية ستتضاعف فرص حصولهم على الوظائف في مجال الاتصالات وتقنية المعلومات.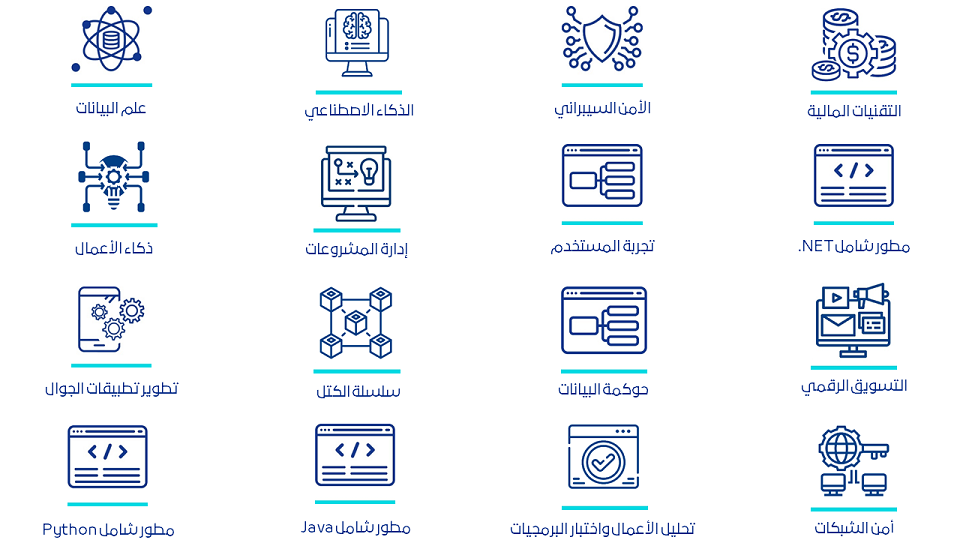 شروط القبول في المعسكرات التدريبية:
سعودي الجنسية.

عمر المتقدم لا يقل عن 18 سنة.

باحث عن عمل.

حاصل على بكالوريوس أو دبلوم في تقنية المعلومات.

لم يستفد سابقاَ من مبادرة مهارات المستقبل.

الإلمام بموضوع المعسكر

إجادة اللغة الإنجليزية.

اجتياز مقابلة أو/و اختبارات التقييم.

الالتزام بالحضور واكمال المعسكر
يمكن للمتقدم التسجيل في 3 معسكرات كحد أقصى
Career paths
Information Security
Cybersecurity
Professional services
Digital transformation
حوكمة البيانات
Consulting
Blockchain technologies
data analysis
Artificial intelligence
Technical support
Quantum computing
Infrastructure
Infrastructure operation
Penetration tests
Internet of things
Project management
Digital project management
Management of systems and databases
SQL Database Management
ORACLE Database Management
Windows Systems Management
Unix Systems Management
Linux systems Management
Software quality
Systems Quality Management
Response, investigations and security risk analysis
Technical consulting
E-Marketing
Design and development
Implementation, operation and maintenance
Operating and Maintenance
Cloud Computing
Governance, risk and compliance
Sales
Business analysis
Systems analysis
Marketing products and services
Operation of information security
Institutional architecture design
Designing technical solutions
Application design and development
Website development
Bioinformatics
Pre-sale services
Operation Support
Business intelligence
Data science
Data Center
Information Security Engineering
Embedded Systems Engineering
الواقع الافتراضي والمعزز
Data Engineering
User interface and experience
Training courses
There is no training available that is related to this field.
Coopertaive Training
There is no co-training available that is related to this field.